---
Parents of Peachtree Park Pediatrics,
We will continue to provide you with as much up-to-date information pertaining to the coronavirus situation as we can. Read on for more information about COVID-19 testing and what to expect as states continue to ease their shelter-in-place restrictions.
Tests for COVID-19: Use and Interpretation 
The Journal of the American Medical Association recently published the below figure about diagnostic tests for COVID-19: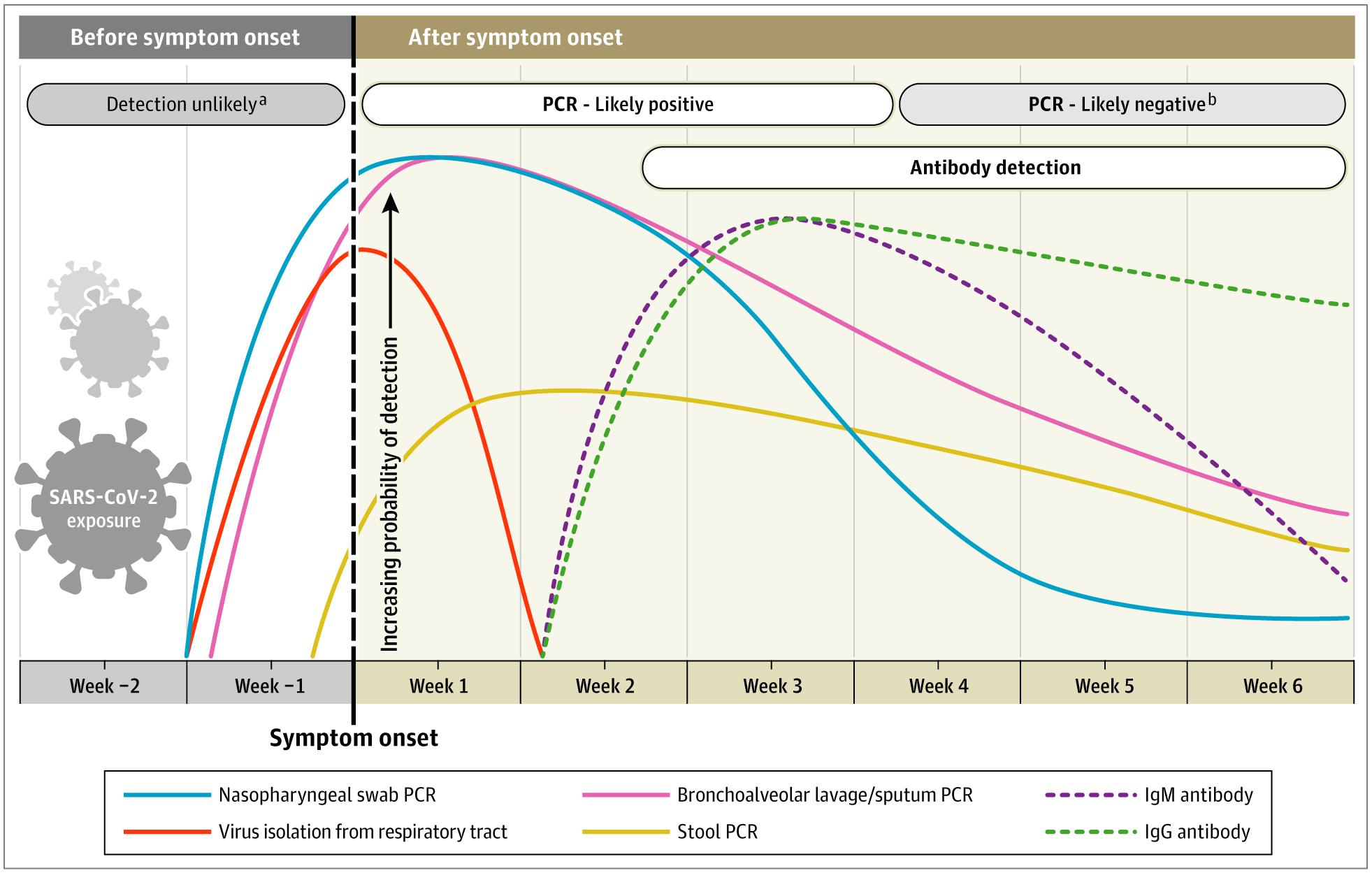 Items to note: 
The typical test for the presence of the virus is the PCR on a specimen collected from the back of the nose (Blue line). While this may be positive if tested a few days before symptoms begin, it is most likely to show an infection during the first 2-3 weeks of symptoms.

The antibody tests for COVID-19 (Purple and Green lines) do not become positive until the end of the 2nd week of symptoms and are most likely to be detected 3-5 weeks into the illness.

This graph looks at the performance of an ideal test, one that is 100% specific (doesn't return a negative result for anyone who HAS the disease) and 100% sensitive (doesn't return a positive result for anyone who DOES NOT HAVE the disease). Preliminary evidence shows that these tests are nowhere near the ideal, resulting in many False Positives and False Negatives.

It is not known if presence of antibodies means that an individual is immune from getting COVID-19. A positive antibody test should NOT be used to justify loosening social distancing restrictions for your child.
Should Opening School in the Fall be a Priority? 
A recent commentary (https://jamanetwork.com/journals/jamapediatrics/fullarticle/2766113) argues that "the risks posed by delaying school openings are real and sizeable, particularly for students from low-income families."  In addition to lost learning opportunities, there are concerns about the impact on children's mental health caused by isolation from their friends and routines.  Rather than a blanket decision to open, or not open, all schools it would be better if educators, county and state leaders took a targeted approach.  Opening school should be prioritized for younger students and those with learning difficulties who have not adapted as well to  distance learning.
Is It Safe to Go Out to Eat?
That is the title of a recent NY Times article.
The article offers practical advice on criteria to use to determine if eating out is safe.  In addition to social distancing in the dining area, eating outside if preferable, expect the staff to wear masks and be aware of common surfaces you may touch within the restaurant.
How Long Before We Know if Easing Restrictions Causes Virus Spikes?
Georgia and some other states have recently eased shelter-in-place restrictions and allowed some businesses to reopen.  Because of the delay between being exposed to COVID-19 and showing symptoms, an increase in the number of disease cases may not become apparent for weeks.  It may take multiple rounds of exposures over 5-6 weeks to know how reopening has impacted the pandemic curves.  Continue to remain vigilant and don't be lulled into a false sense of security by short-term drops in cases and deaths.
---
We encourage everyone to continue to use good hand hygiene and practice social distancing as much as possible. Please contact our office with any further questions or concerns.
Sincerely,
Peachtree Park Pediatrics
For reliable, up-to-date information about COVID-19, visit:
Peachtree Park Pediatrics strives to deliver up-to-date primary care to our infant, child, and young adult patients in a welcoming and family-friendly environment.  The practice has deep roots in the Atlanta community, and it is our continued honor to be entrusted with the health care of our next generation.
---
Peachtree Park Pediatrics
3193 Howell Mill Rd NW Suite 250
Atlanta, Georgia 30327
404-351-1131
www.peachtreeparkpeds.com/